Our first camping trip to California's Rock Creek Valley happened by accident four years ago. I was anxious to get out of town and off the grid with the kids, so I quickly packed the truck with every piece of camping gear I stumbled over on the garage floor, and started driving north toward Mammoth Lakes. We had no reservations for a campsite, but I figured we'd find something.
We arrived at the Mammoth Lakes Visitor Center about five hours later, only to discover there wasn't a developed campsite available for 50 miles. It was suggested we drive south on the 395 and explore Rock Creek Valley, which I'd never heard of. We went back down the road about 30 minutes south of Mammoth, turned on to Rock Creek Road and headed into the valley. After several failed attempts at finding a spot to camp along the way, we discovered the East Fork Campground — and we've been going back every year since.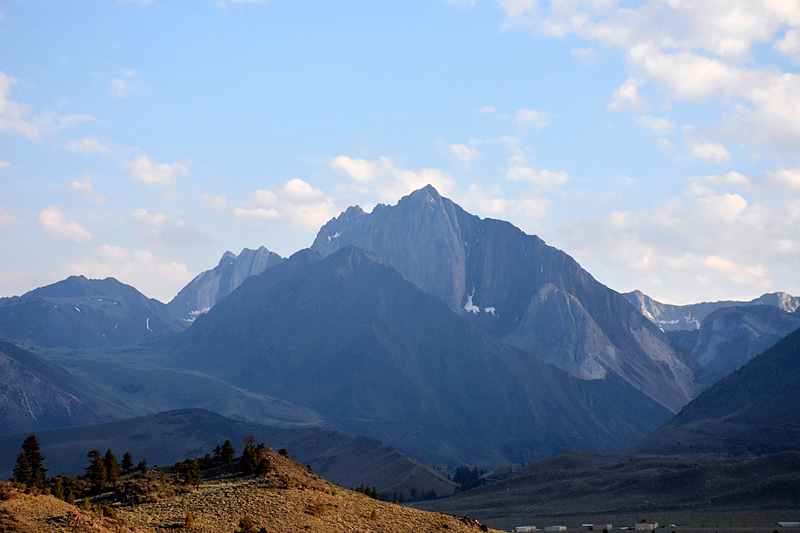 East Fork Campground
The campground has both reserved and first-come-first-serve campsites. It's a developed campground with over 100 sites, bathrooms, running water, fire pits and wood for sale, but no RV hookups or showers. In the summer, I recommend making a reservation for weekend camping or arriving on a Thursday to get a first-come site before they fill up. We have been twice without a reservation and found a spot easily. That said, if you arrive on Friday night in the summer expecting to find an open spot, you'll be out of luck. You can make online reservations at Recreation.gov.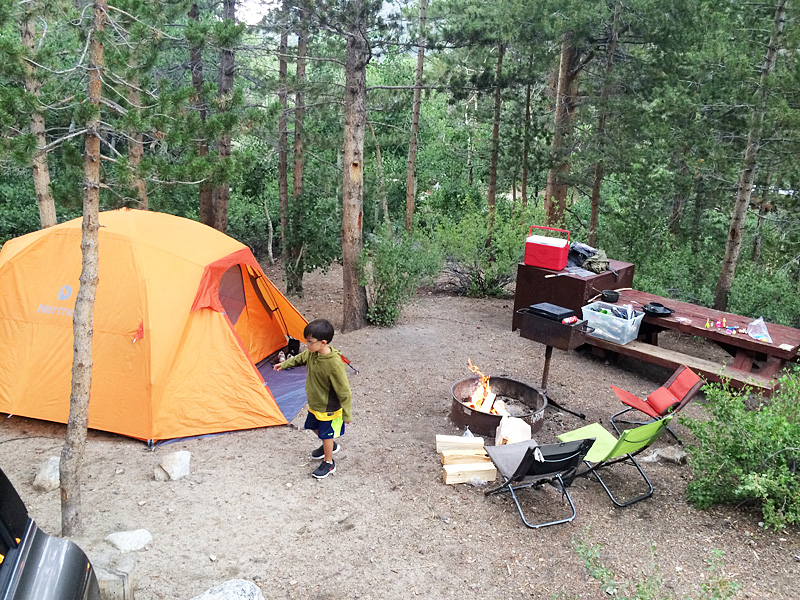 Getting to Rock Creek Campground
Rock Creek is a stream that flows from the high Eastern Sierra Nevada to the Owens River in Mono County. The upper watershed is in the John Muir Wilderness of the Sierra and Inyo National Forests.
Off the 395, look for signs for Tom's Place, which is about 15 minutes north of Bishop (30 minutes south of Mammoth Lakes). Take Rock Creek Road along the river into the valley for about 10 miles. You'll pass a number of other campgrounds along the way. The sign for East Fork Campground and the entrance is off to the left. If you arrive at Rock Creek Lake, you've gone too far.
Our Weekend Itinerary
We typically arrive on Friday morning and stay until Sunday night. Despite the protests of my daughter, our trips revolve around fishing in Rock Creek Lake, which is just up the road.
Day 1 - Setting up camp, fishing Rock Creek Lake, dinner at camp
Day 2 - Breakfast at camp, more fishing, lunch at Pie in the Sky Cafe, hiking, dinner at camp
Day 3 - Breaking down camp, driving and exploring, stop at Mammoth Lakes Visitor Center, drive home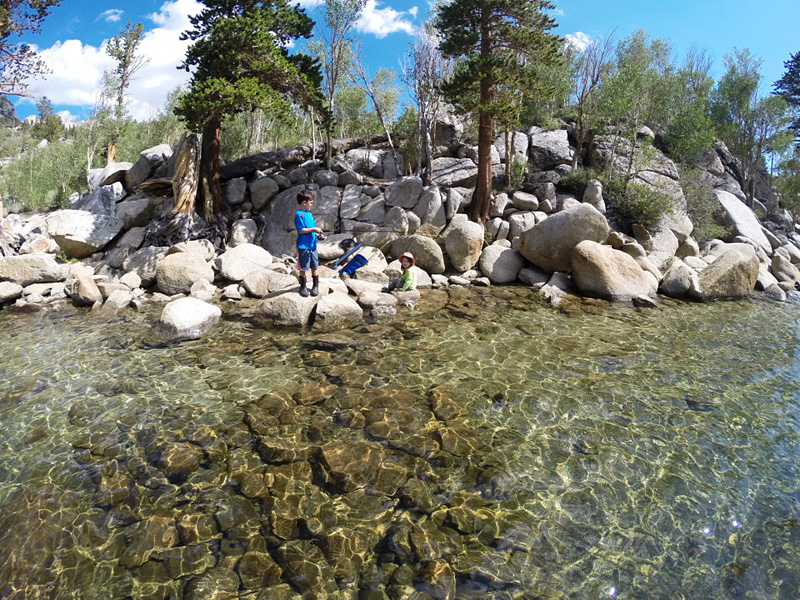 DAY 1

Setting Up Camp
We usually camp in the first loop near the stream, close to the bathrooms and a stash of firewood. I set up camp and go buy firewood while the kids explore, complain, argue, and beg for snacks. After lunch, we go for a walk around the campground down by the stream, where there are several bridges and many little trails. There will be many other families and kids around, and the terrain is flat and safe, so I let kids go play unsupervised. After running around a bit, we set up all the fishing rods and drive up the road to Rock Creek Lake.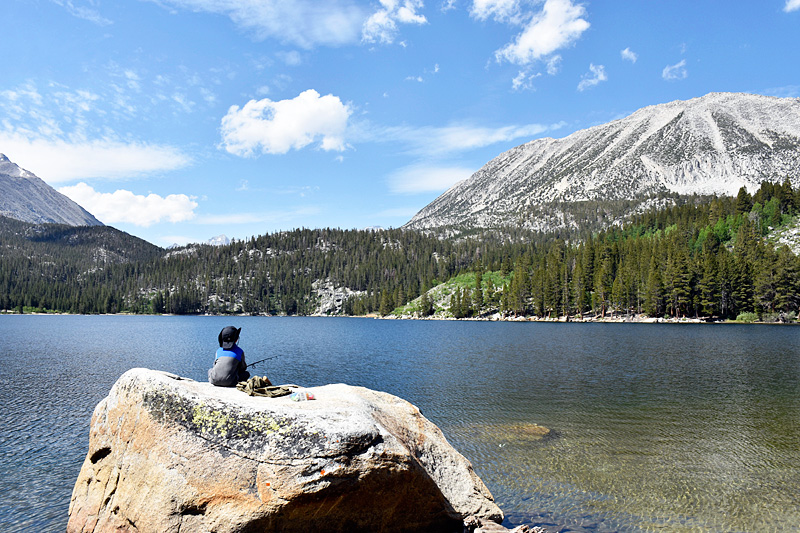 Fishing Rock Creek Lake
Just past Pie in the Sky, there's a small parking lot and also a short road down to the water by the boat launch. We always stop there, and fish that end of the lake for a few hours. The lake is stocked regularly with rainbow trout of all sizes. Fishing from shore with a simple rig of a small weight and some kind of plastic worm will usually do the trick.
This year, we got nothing on the first day, which created a lot of stress. Fishing with the kids is a real test of patience for all of us. My son is impatient, my daughter bored and I'm frustrated. I'd like to take this opportunity to formally apologize to my dad for all the times I tortured him on our fishing trips when I was a kid — complaining, playing with the bait, throwing rocks, and getting lines stuck and tangled. It all comes back around I suppose.
Dinner and Campfire
Since we had no fish, I made campfire burritos and a fruit salad for dinner. I usually bring two medium-sized coolers for the weekend. One with food and ice, and the other just packed with ice to use as backup. I have a bunch of random cooking equipment, most of which I end up not using. The key pieces are a sharp knife, cutting board, cast iron pan, and oven mitts that I wear when cooking over the fire. I use a small stove for boiling water but otherwise rely on the campfire for cooking. You aren't allowed to wash your dishes at the campsite water spigots, so I always bring paper plates that end up in the fire after we eat. S'more fixings are required, as is Jiffy Pop.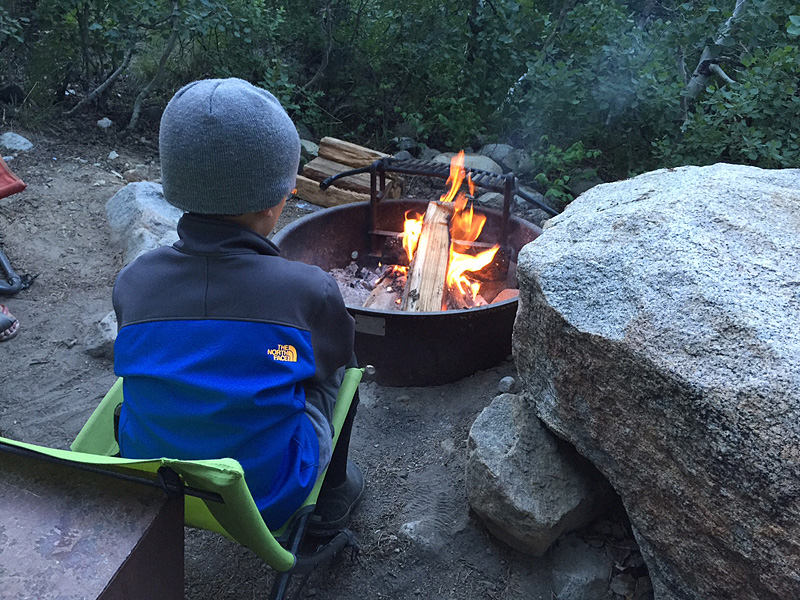 DAY 2
Breakfast
I always sleep well when I'm out in the woods, but am still up before the kids. After starting a fire, I make a cup of coffee, and enjoy the only 20 minutes I'll be alone for the rest of the day. We typically do eggs, bacon and fruit for breakfast, but I always bring cereal and instant oatmeal as backup too. Breakfast is spent begging the kids to eat and walking them to the bathroom before cleaning up and putting out the fire.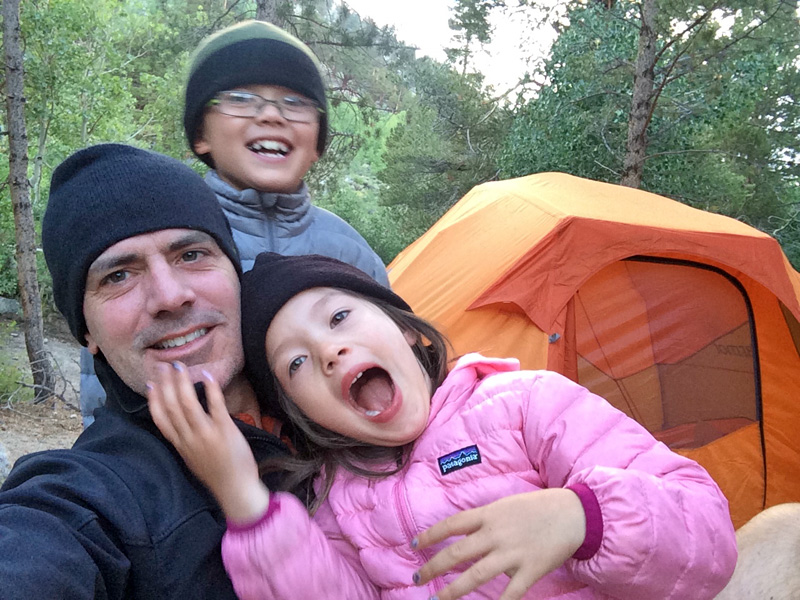 More Fishing
Before fishing on Day two, we stopped in Pie in the Sky to get some advice about what bait to use. The guy there recommended the most ridiculous pink plastic "mouse tail" worm thing. I was skeptical, but we got it and headed to our spot on the rock. Within minutes of casting our first line, we hooked a HUGE trout. I'll admit that I completely freaked out, and may have shouted a few four-letter words that were not "fish." Thankfully, we landed it.
We stopped by Pie in the Sky with the fish, and they took my son's photo for their 2015 wall of fame. They also asked permission to send the photo to the Western Outdoor News. So he was in the paper too. This one fish pretty much made our trip. It's part of the family lore from now on.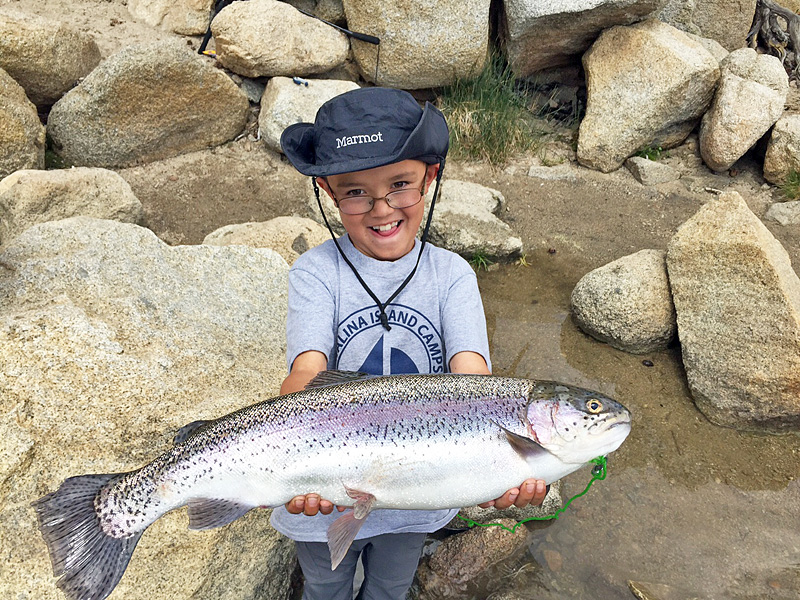 Kayaking or SUPing

Last year, we brought our kayak, which was so much fun. It was a lot of work, but it was great to be out on the water. Each year there are more and more folks paddling around on SUPs (stand up paddles) as well. There's no place to rent them up there, but you can rent little aluminum boats from Pie in the Sky by the hour. You'll find the boat launch at the east end of the lake just past the first parking area.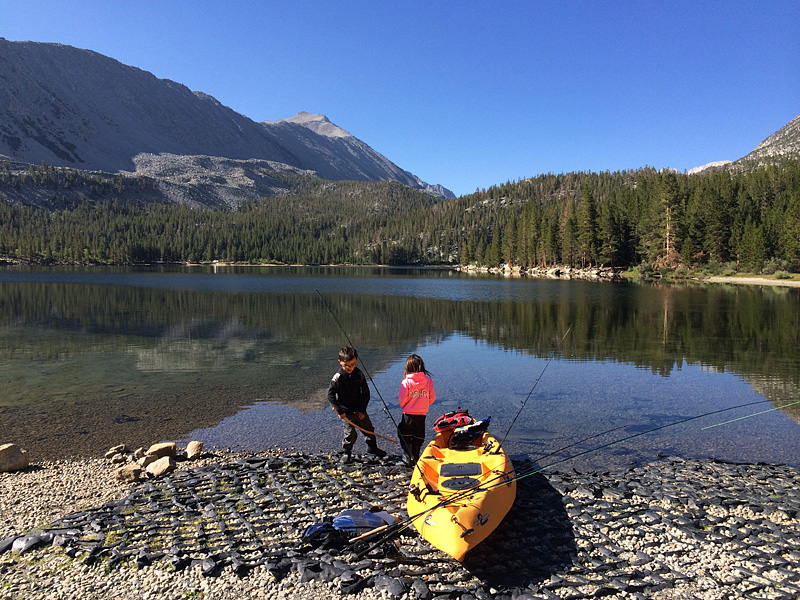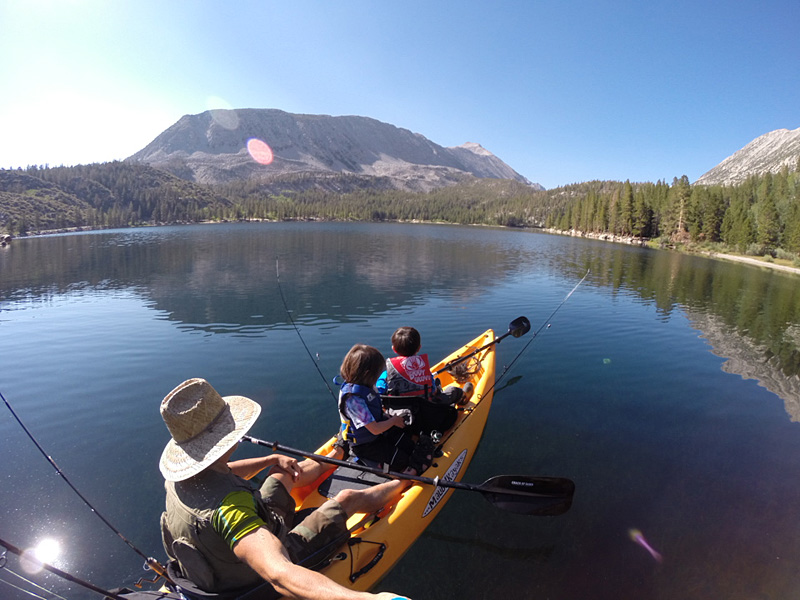 Hiking
If fishing isn't your thing, there are many great hikes all over Rock Creek Valley. A great one is hiking into the Little Lakes from the trail that starts at the end on Rock Creek Road. Drive past the lake until the road ends in a parking lot by the stream. The hike into the first lake is easy terrain for kids and beginners. There's a description of the hike and the area here.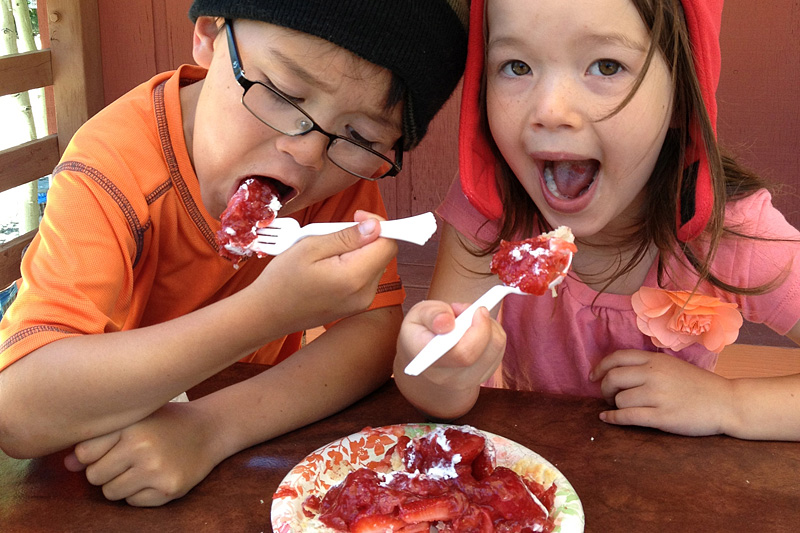 Dinner and Bedtime
Cleaning our giant trout at the campsite was a challenge. You're not allowed to clean fish in the water spigots near the campsite or use the sinks. So bring a big cutting board, filet knife and lots of paper towels. And, of course, bring butter and lemon too. The kids are always so morbidly curious about what's inside our trout. (Guts and eyes and things.) It's a bit disturbing, but makes me laugh. I talk to them about my dad and how we used to fish together. My dad had this rule – "You catch 'em, you clean 'em." Knowing this, my son begs to handle the knife and clean the fish. "Maybe next year," I tell him.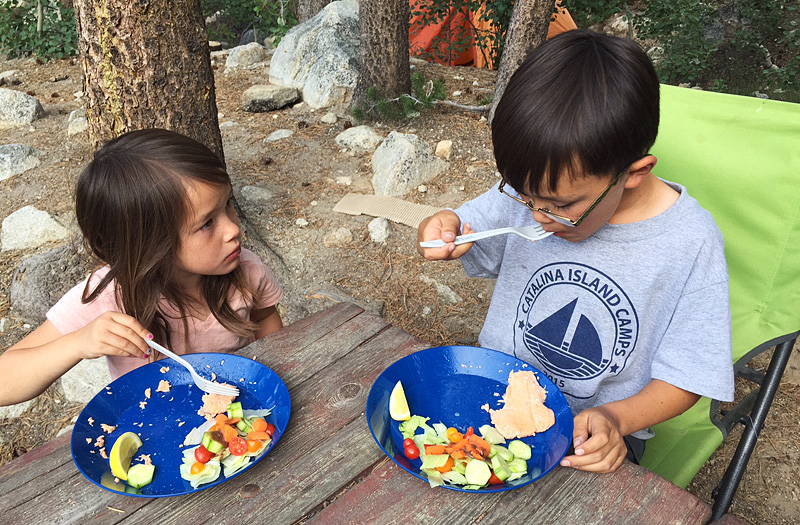 DAY 3

After breaking down camp on the third day, we headed into town to visit the Mammoth Lakes Visitor Center where the kids begged me to buy stuffed animals and postcards. After locating a decent cup of coffee, we started heading home.
We made three stops on the way: Convict Lake, Hot Creek and Fossil Falls.
Convict Lake
Convict Lake is just south of Mammoth off the 395. A former volcanic crater is now a beautiful lake stocked with trout. There are campgrounds and boat rentals available, and a scenic trail that circles the shore of the lake. We sat and fished for an hour or so without luck, before heading off to Hot Creek.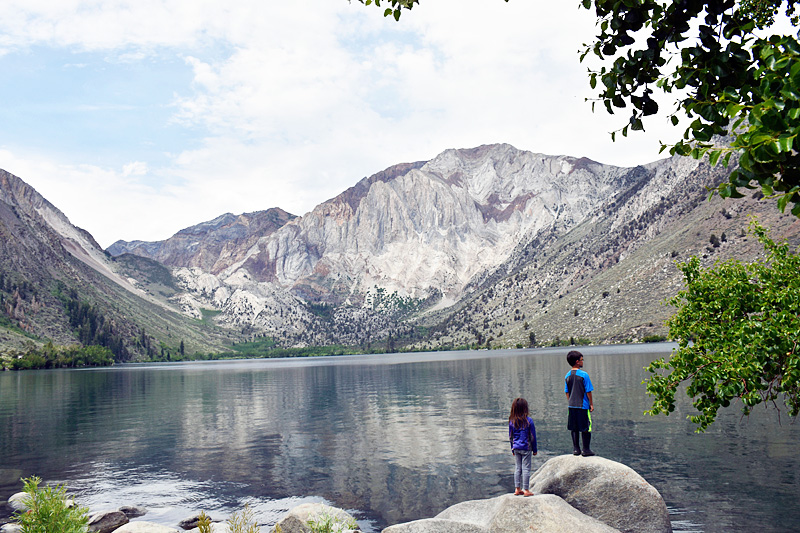 Hot Creek