We recently took a road trip to our cabin in Colorado, and always like to hit up a national park on our drive back to Washington state. This October we decided to stop by Glacier National Park in beautiful Montana. The drive alone is postcard worthy, but you won't be disappointed in visiting this park, even when everything is closed!
The main route through the park is called Going to the Sun Road. This road can close early in the season due to weather. This year, many parts of the park were closed due to early weather, but also due to the tragic wildfires Glacier has suffered through the summer. Some were still burning during our October visit. (But don't fret, there is still so much to see!)
We didn't have much time, so we started at the west entrance and admired Lake McDonald from its gorgeous lakefront. We walked out onto the dock, walked around the shore, took pictures, threw rocks, and took it all in. This is a gorgeous spot and requires no hiking, just a few steps from the parking lot, which is great for families with lots of little feet. Next we took to our map and checked out some other places. The ranger had given us info on all the closed areas so we wouldn't waste time.
We decided on Bowman Lake since it was a bit of a drive (30 miles from Lake McDonald) and we wanted a nice scenic drive with lots to see. The drive was so fun! Our 4WD helped, but wasn't required on this particular road. (FYI Glacier has a lot of bumpy, unpaved roadways to keep the park more in tune with nature and to not disturb the natural environment as much as they can. This road is one of those roads!)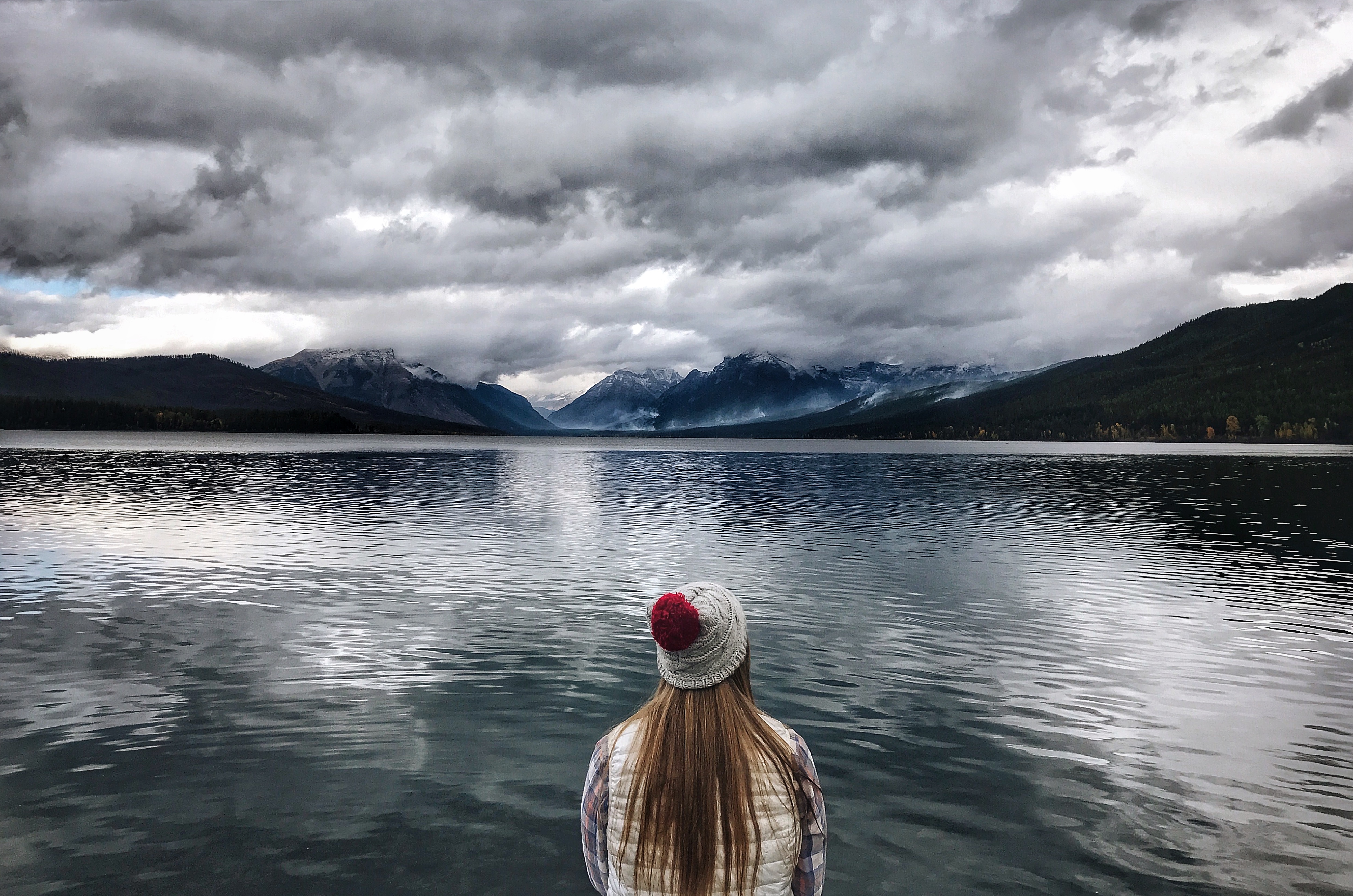 We arrived at Bowman Lake, which has several hiking trails to choose from, camp sites, and amazing views. We chose a short, one-mile trail to stretch the kids legs and skipped rocks on the lake. Our kids took cover in some trees when a sudden hail storm passed through. I don't think I've ever heard so much giggling!
On the drive back to Main Street, we stopped at every lookout and view point we passed. The views were picturesque everywhere we turned. The gift shop was still open near the main entrance, so we stopped and purchased a few mementos; a little bird statue, some books on Glacier National Park, and huckleberry jam. (Everything here is huckleberry!)
If you're passing through Montana on a road trip and don't have a lot of time, don't be overwhelmed! You can still swing by and spend the day seeing some glorious sites at Glacier National Park. We just got a small taste and can't wait to go back and spend more time really exploring all this amazing national park has to offer.