We are a multicultural family. My husband was born and raised in Wisconsin, and his ancestors are from Germany, Poland and Belgium. His great-grandparents emigrated from Germany four generations ago. I was born in the U.S., as my parents moved to the mainland from Puerto Rico before I was born.
When we found out that we would be parents, we wanted to share my Latina heritage and language with our children, as well as my husband's rich culture and traditions. Much of my husband's family lives in his hometown of Manitowoc, Wisconsin. We recently decided to take a small road trip to Manitowoc to adventure on Lake Michigan. Manitowoc is as charming as small Wisconsin cities get! Although there are more than 33,000 residents, it has that lovely small city vibe that I've grown to love about this area. Situated right beside Lake Michigan, my husband grew up running and biking along the shoreline. I am smitten by the stunning, natural wonder.
We decided that we would visit the Wisconsin Maritime Museum and tour the USS Cobia, a submarine that's moored in the Manitowoc River. My husband shared that he hadn't visited since he was about five years old, and it was a really neat experience to be able to take our own sons there. Manitowoc has a very interesting history.
During World War II, the Manitowoc Shipbuilding Company built 28 submarines for the United States Navy. Of the 28 submarines, 25 were built in time to be used during the war. The USS Cobia was not built in Manitowoc, but it is the same class of submarine. Gabriel's first question was, "What's this?" as we started walking towards the top of the submarine. He looked a bit nervous, because the submarine had a very small roped fence around it from which we could see down into the river. Cristian was napping away while my husband wore him in our carrier. I didn't want Gabriel to become scared or panic, so I reassured him that I was right next to him. I placed my hands around his little chest, and he seemed to calm down as our tour guide chatted about the history of the vessel. Gabriel started to breathe more easily, and then began to walk around to see if he could spot any fish. He asked me, "Es un bote?" (Is this a boat?), and I told him that it was sort of a boat, but called a submarine. He's at the stage where, once I clarify his questions, he'll respond with, "Ohh, okay."
We headed for the interior of the submarine and things got interesting! I am a bit claustrophobic, and every area in the submarine was very narrow - not at all spacious for a group of 20 people. Hard to believe that there would often be 80-120 men in these submarines at a time! I just couldn't believe it. What a huge feat on top of having to battle in the war. I know that our boys do not understand the significance of this quite yet, but for my husband and me it was healthy reminder of the many sacrifices made by our veterans. It was also a great experience for us to learn more about what veterans at the time had to endure.
I wasn't able to last the entire tour, because both claustrophobia and nausea got the best of me. At about the same time, moving from one tight space into another proved to be enough for our curious Gabriel, who became more antsy as the tour extended. It was a great reminder to be flexible when traveling and adventuring together.
When we got back out into the fresh air, the first thing Gabriel told me was, "Gracias, Mami!" It pretty much broke my heart, but I also was happy that I followed his body language and got us out of there sooner rather than later. We were able to step out and view the rest of the museum as well as have some fun in the interactive water play area.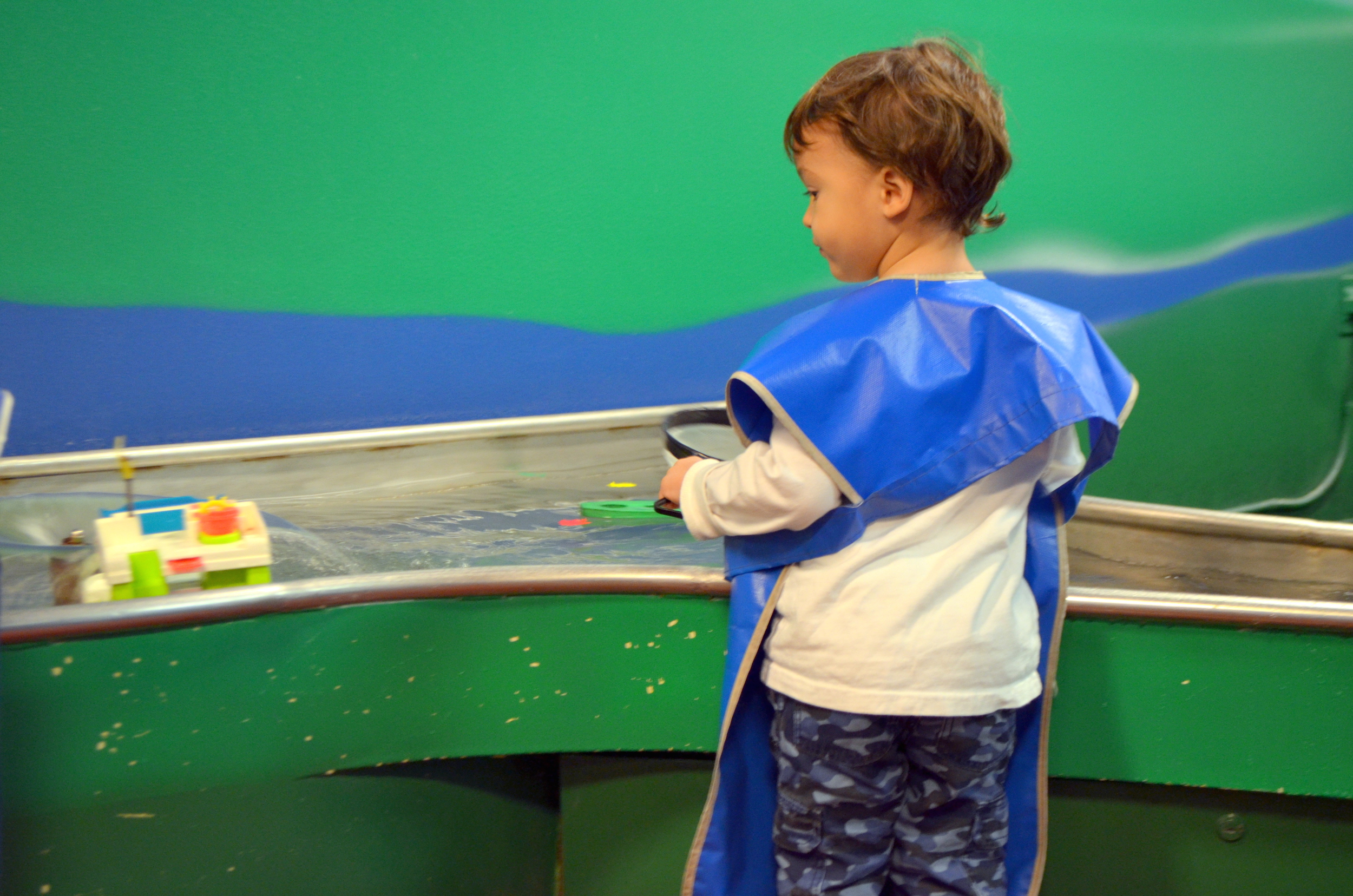 Our entire trip was full of some unexpected moments as well as lessons in awareness. We were so happy to be able to share a little bit of some of my husband's childhood with our boys and will likely visit the Cobia again when the boys are a little older.