Life is what happens in those in-between moments; those times between the chaos of work, school, and schedules. We want to foster a lifestyle that focuses more on these "life living" moments than our hectic to-do lists. Every month, Edward and I, along with our two girls, Olivia and Harper, take at least a few days to live our "real lives." It is a time to get away from the busy-ness and just be together as a family. We use these times to dive deeper into our relationships with each other and create long, lasting memories so we leave our kids with a legacy full of family adventures. We also believe that there is so much our daughters can learn from our adventures by studying history, geography, and science in any given National Park. They will learn to appreciate people of different cultures by visiting a new country, and there is nothing like a long car ride to teach them the character traits of patience and self-control.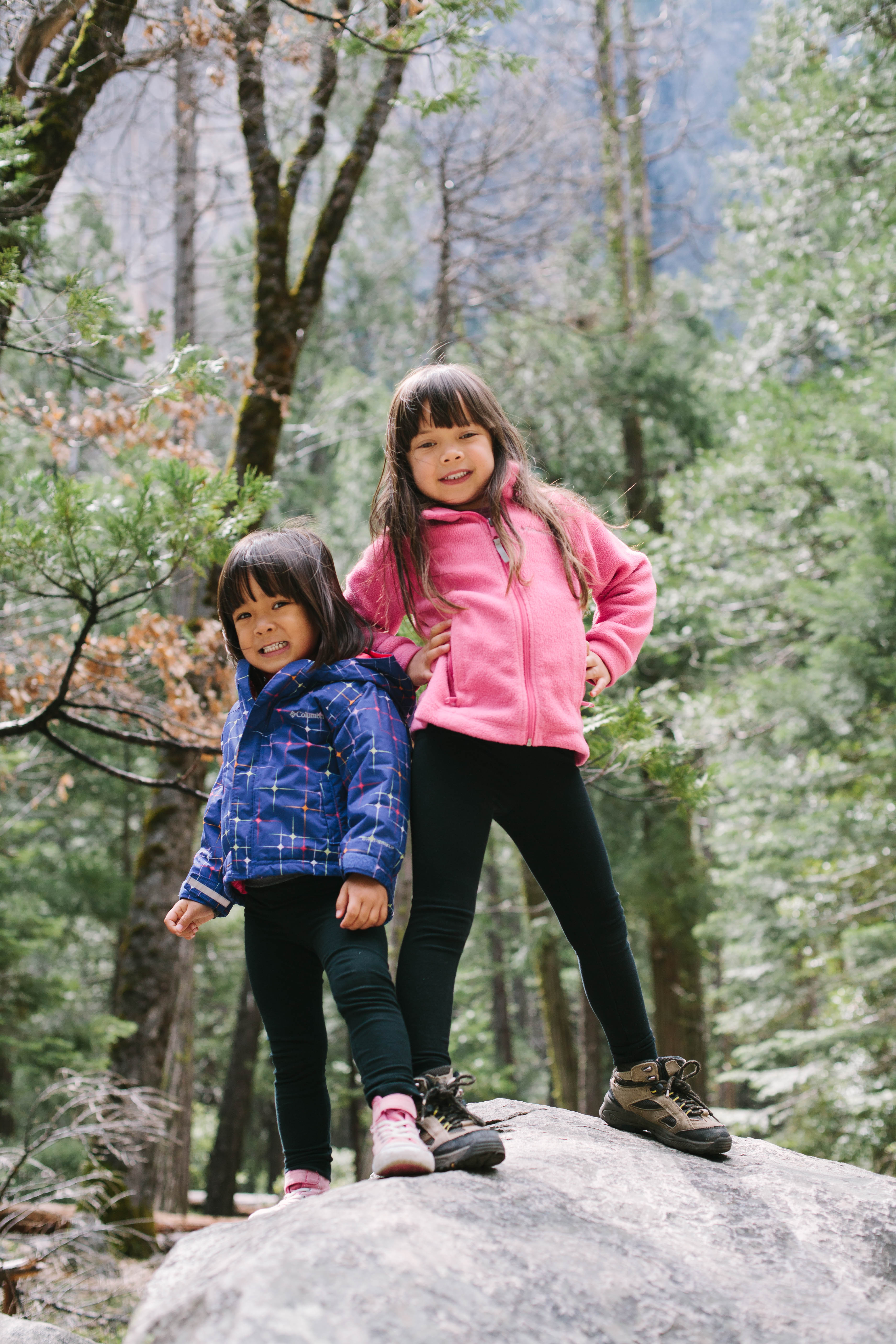 Mark Twain spoke directly to my heart when he wrote, "Travel is fatal to prejudice, bigotry, and narrow-mindedness… Broad, wholesome, charitable views of men and things cannot be acquired by vegetating in one little corner of the earth all one's lifetime." Recently, we visited one of the country's most treasured National Parks, Yosemite. It was spring and the park's waterfalls were overflowing with snow melt from the record-breaking snowfall this past winter. We felt like we had to see the iconic waterfalls in all their glory.
On this day, we spent the morning wandering through the meadows and had a picnic lunch on the boardwalk under Yosemite Falls. Amid the deep hum of the nearby falls, tiny raindrops began to dance on the water's surface all around us. Afterward, we hiked over to the falls to get a closer look. The amount of water flow was staggering and left the areas below in a dense, wet mist. We then led ourselves to the Yosemite Art Center which offers a variety of classes and activities for all ages. While there, the girls created playful masks of their favorite Yosemite animal. Once finished, they increased their fun by donning their new creations and making animal sounds.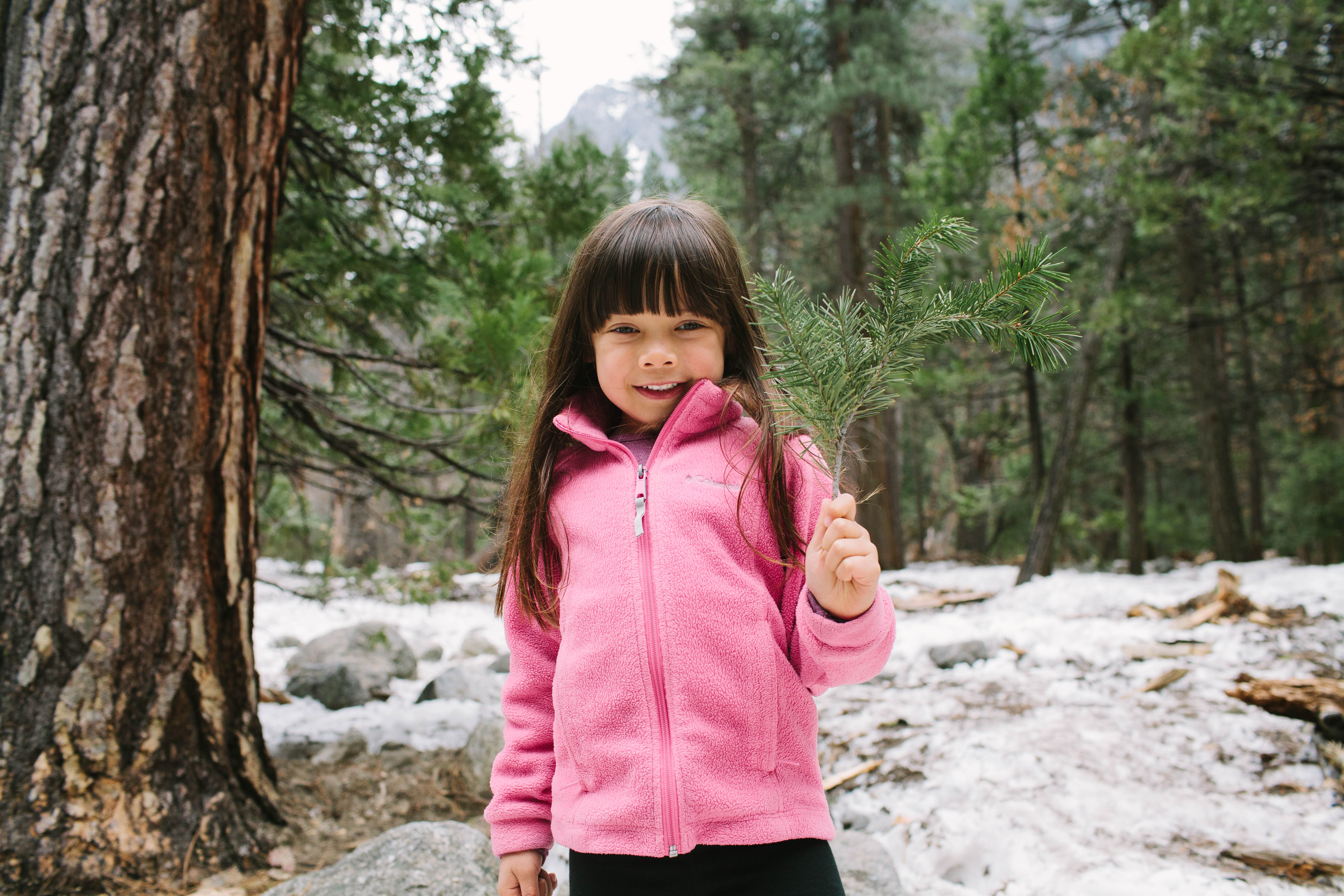 Traveling is a wonderful opportunity for active learning as a family. The National Parks do a great job providing resources for their visitors. We use the park brochure as our guide and teacher for the day. We also participate in the Junior Ranger Program at each National Park we visit. The Junior Ranger program encourages a sense of wonder and pride in the parks by promoting learning activities that will earn kids a prized Junior Ranger Badge after taking an oath to promise to protect our parklands. (Our favorite badge is from Muir Woods National Monument and made of actual Redwood.)
We can't imagine a better way for our kids to learn and foster creativity than through direct interaction. Sure, traveling with young kids is challenging at times. We get our fair share of "Are we there yet?" There are plenty of impromptu temper tantrums and emergency pull over bathroom stops. We push through that though, because we hope that our travels will help our children see the big picture: enjoying and appreciating a life that celebrates each other and the opportunities we have, not glorifying busy-ness. We hope to do this by exposing them to experiences that will turn them into adults who are knowledgeable, grateful, and humble.