I have a lot reasons for getting out and exploring. When my son was born, he became the biggest one. We recently visited Yellowstone National Park. This is not a guide to Yellowstone, so you should stop reading now if that's what you were hoping for. I am pretty sure my sanity was questioned a few times when I decided I was going to camp at Yellowstone, in October, with a toddler…alone. We were facing a lot of firsts. It was my first time taking Wes camping on my own, first time car camping, first time to Yellowstone, first time flying into a place and then camping, first time camping in the snow, first time in Wyoming, period. (Are you questioning my sanity now, too?) The truth is that I questioned myself quite a bit leading up to the trip. I found myself wondering if I was mentally and physically strong enough to handle everything on my own.
We drove through Shoshone National Forest and Bridger-Teton National Forest on our way from Boulder to Yellowstone. When we finally crossed into Yellowstone, through the south entrance, it was around 5:30 p.m. This didn't leave much time to get to Lewis Lake Campground (one of two campsites open during this time of year) and get set up before dark. By this time, my little adventurer was pretty restless (rightfully so). I had been certain that there would be firewood available for purchase close to the entrance of the park or near the campground, but I was wrong. I took a deep breath as I flashed back to the day before we left as I stood in REI staring at the axes, convincing myself I didn't need one.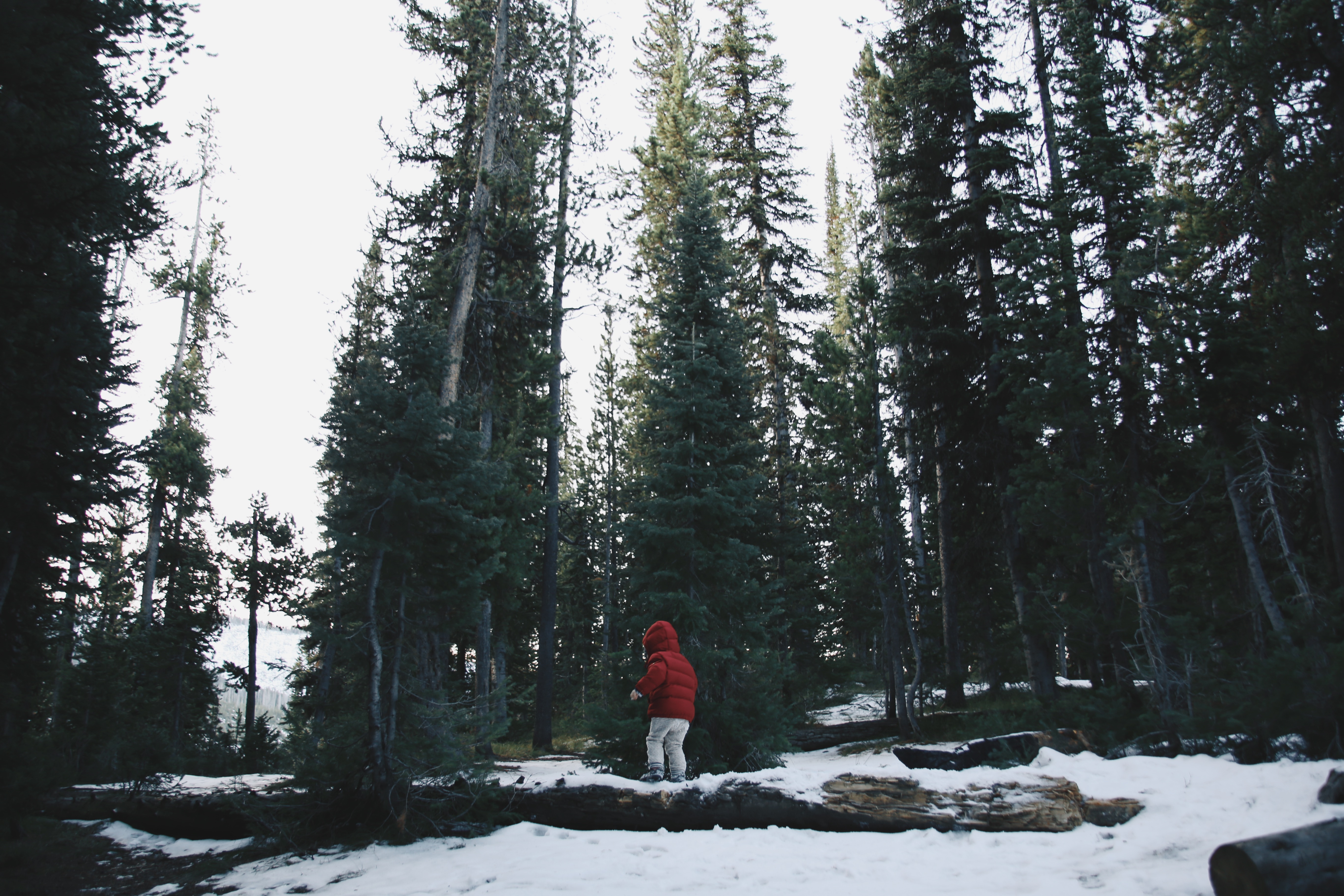 Instead of sitting by a toasty fire, we walked around the campground. As I looked at other campers, who all seemed so much more prepared than I (despite my weeks of preparation), I felt a bit defeated. Fires were blazing at nearly every site with people cozied up eating hot meals. There were a handful of car campers and I noticed they had reflective shades on all their car windows. "Crap!", I thought to myself. I didn't even know that was a thing. I wondered if I had made a terrible decision. But, if there are two characteristics on which I pride myself, they are adaptability and resilience. We ate peanut butter and jelly sandwiches for dinner, closed the car up as soon as it began to get dark, and played a million made up games until we fell asleep.
The next morning, I opened the trunk of the car to a gorgeous, warm sunrise, a thin blanket of snow underneath us, and the tallest shimmering pines surrounding our site. It couldn't have been a more perfect way to start our first full day in Yellowstone and gave me the refresh I needed. I was thankful to find the Old Faithful general store, open and fully stocked with firewood and other supplies. We took our time getting from Old Faithful to Mammoth campground so we could enjoy everything along the way.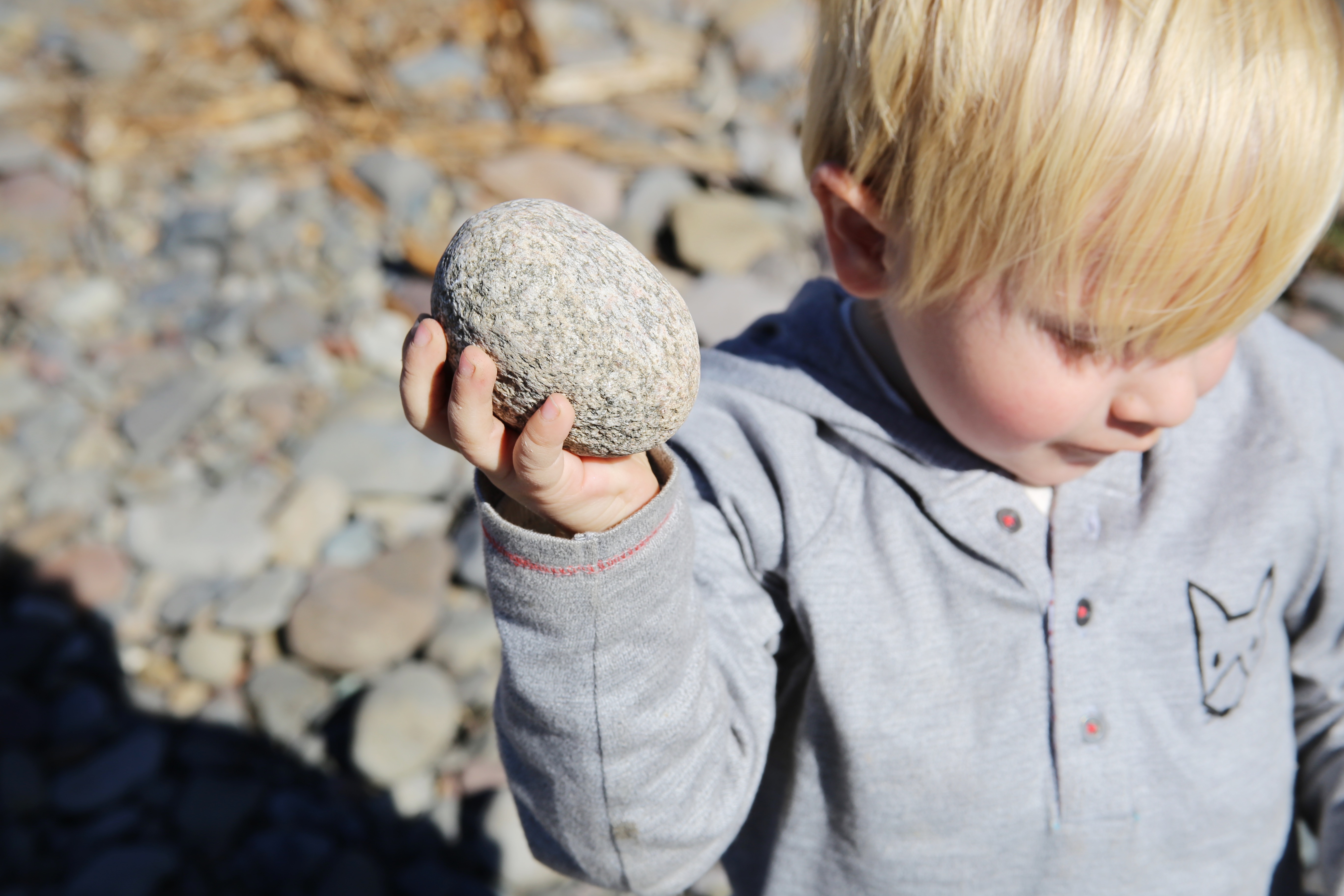 When we made it, I was ready to redeem myself. We had a big fire keeping us warm as we ate our delicious, fire-cooked meals. That night, I used my reflective emergency blankets to cover all of our windows as makeshift solar shades and we were cozy as could be. After a great night's sleep, I woke up with a tough decision to make. I knew the weather was going to be potentially bad the following day, and I wasn't prepared to be stuck if that happened.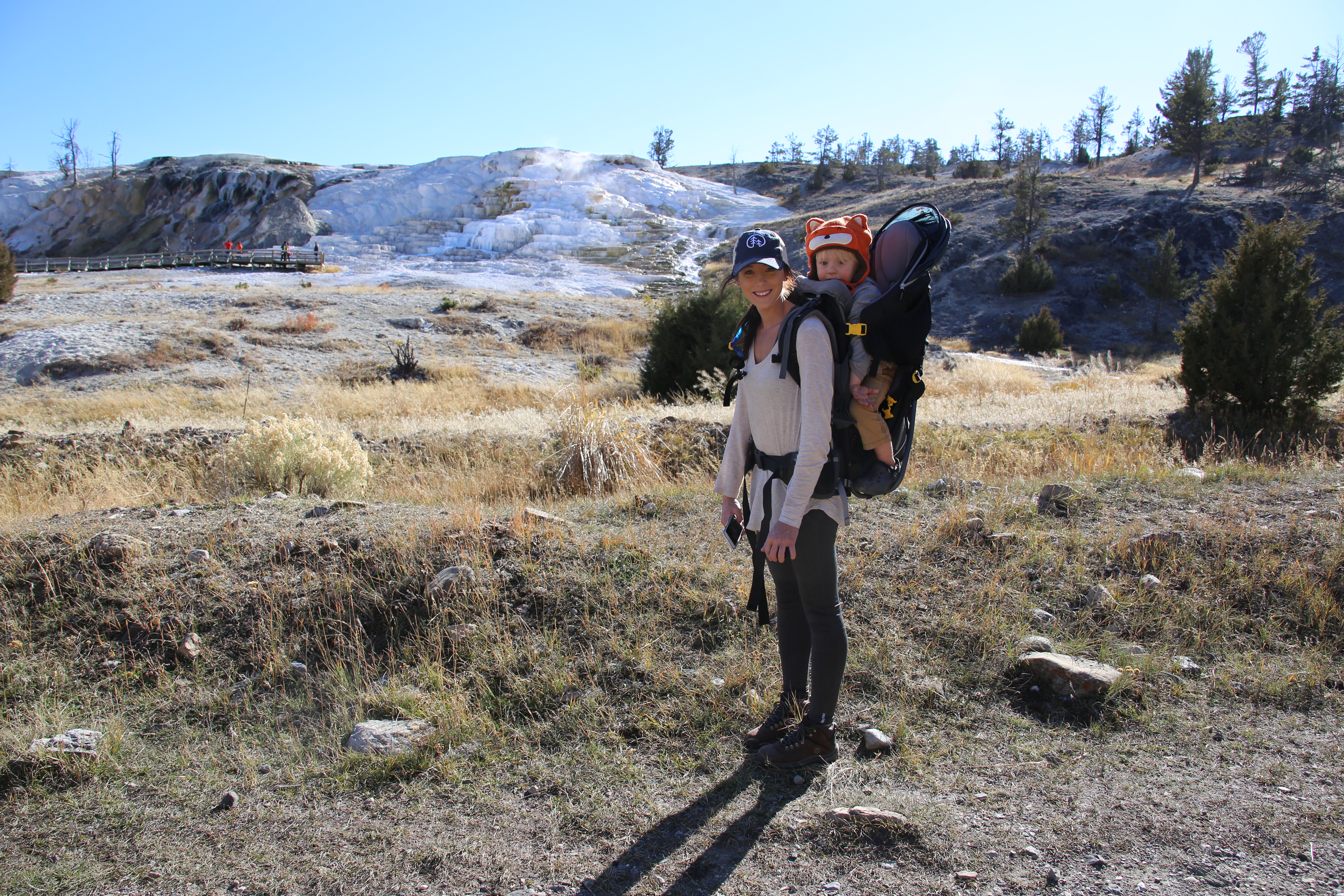 Once I decided we needed to cut the trip one night short, there were two options. The first was spending the day in Lamar Valley. The second was driving like mad to fit in as much as possible. I looked at Wes and knew the second wasn't what he needed. We spent the day hanging out in and hiking around Lamar Valley. Wes spent a long time throwing rocks in the river as a herd of bison grazed across from him. Kids are so sincere aren't they? He did not understand the gravity of where we were. He just wanted to throw rocks in the water and his laughter filled the air around us. On the drive back, I realized something.