The Sunshine Coast is a 180-kilometer stretch of coastal land that lies north of the bustling city of Vancouver, British Columbia. Even though this area is part of the province's mainland, it is only accessible by water or air.
Some call it one of British Columbia's best-kept secrets, a Pacific paradise dotted with quiet coastal towns, hidden groves and secret beaches. I couldn't agree more.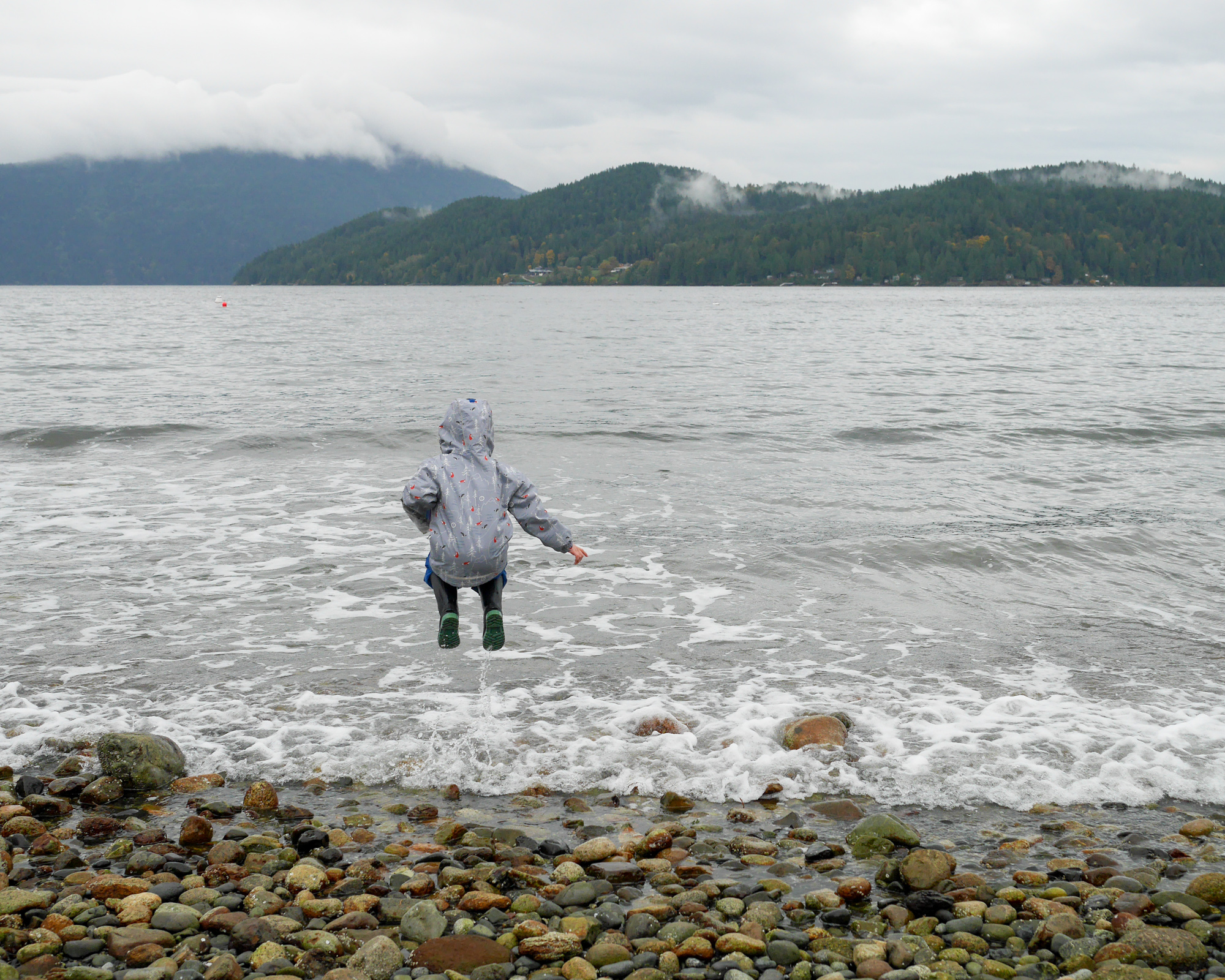 Despite it's name, the Sunshine Coast receives an annual rainfall of 100 cm (39 in). While the summer months are mostly sunny and dry, autumn ushers in days of constant rain. This fall we spent a week exploring the Sunshine Coast and it rained every single day we were there!
One thing that is important for our family is getting outside each day, whatever the weather. We want our children to learn to love nature, to be environmental stewards, and to be active outside. We've discovered that one important factor in achieving these goals is to invest in good outdoor gear and to be prepared.
Every day on the Sunshine Coast we zipped up our raincoats, slipped on our rain boots, and off we went. We are a curious bunch and were drawn to the rocky shorelines and moss-covered forests of the Sunshine Coast. My children spent days beachcombing, collecting shells, sea glass, and a small crab.
We explored dark forests and hiked up hills to take in the far-reaching views. One day, we lost power to our home base and decided to make it into an adventure. We walked five kilometers (three miles) along the beach and various trails into the nearest town of Gibson. We took our time and explored nooks and crannies. When we arrived, our appetites were hearty and food had never tasted so delicious.
Slow adventures are the best kind of adventures. While we didn't see and experience everything on the Sunshine Coast, we took our time to truly connect with the land. We will always remember this adventure as one that left us feeling renewed... and a little soggy.